"The Last Riders On Route 66"
An Overview - Chet Nichols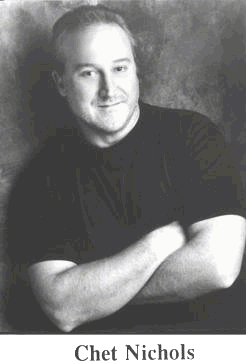 To begin, if you want to hear my music, please go to...http://www.broadjam.com/chetnichols. Also, please visit my main website at...http://www.chetnichols.net.
TO LISTEN TO CHET'S MUSIC ONLINE NOW-CLICK HERE !!! Now, about the book,"The Last Riders On Route 66". Several of my friends have asked me what the book is about, so I thought I'd pay you the courtesy of giving you a brief overview. Seven years ago, I began working on the book, starting generally at 10PM and worked well into the early morning. Truly, I was burning the midnight oil and sippin' Dewar's. But, something was driving me to tell the tale. Not only for myself, but for others, too. It's taken more work than I expected to get it published. There were lots and lots of rejection slips, a half dozen "close calls" with publishers, three agents, a couple offers to buy the rights for little money, many re-writes, two "book doctors" and more rewrites.
During the 1960's, the 1970's and the 1980's, I traveled Route 66 (and subsequent Interstate Routes) as a struggling musician, songwriter, singer, filmmaker and writer. I traveled between Illinois and Oklahoma and Kansas to Los Angeles many times. Sometimes I hitchhiked and sometimes I drove or caught a ride with a friend. As I try to depict in this novel, I learned a lot from that road. It was a classroom that taught me and my friends, the truths of the universe. We began to formulate and recognize our dreams. I still get excited when I think about taking a trip through the Great Southwest in the United States.
I met a lot of interesting people during my travels. The characters in this story are mostly combinations of people I met at one time or another during those years. There are also characters who were created as symbols of the times. There are also characters created from my friends and things they experienced.
In creating the character, Buck Andrews, I combined my personal experiences and the experiences of some of my close friends who used Route 66 to get to California. These friends where also struggling young writers, film makers, artists, and musicians. To all of us who used the road during those years, our impressions and experiences left and indelible mark on our lives to this day.
Also, it is important that you realize that this is a story about places, people, and lifestyles that don't exist any longer. The track that the old Route 66 took is now served by several different interstate freeways. Places where I used to stay along the way, have been torn down years ago. The block that housed the book's hotel and club in Huntington Beach has been torn down and a new, multi-use structure now stands over-looking the ocean. In that way, this story is about change and growth, death and re-birth, how things used to be, and how experiences stay with us over the years.
It's a story about how ideas and people combine, to change their lives and the lives of the people that they share this planet with.
The physical world changes from moment to moment, as do our personal internal worlds. Yet, the struggles and obstacles that humanity has endured still remain the same. Only the setting and the rules change. When you think about it, life is intriguing, delicious, and mysterious. It is something to be loved, studied, and nurtured. Our moments of truth and insight are learned or earned after much hard work or they are exposed to us as flashes of insight from out of nowhere. Go figure.
This story reflects on the road as a backdrop and a center stage of our "humanness". The characters are souls who use their bodies and the road to discover who they are and where they may be headed next. In that way, it is a timeless story of discovery, wonder, illusion, decisions and transformation. The people you will meet are responding to the personal discoveries they make about their spirituality, sensuality, sexuality, and social abilities. In that way, this is a universal tale. Again, please stop by my website....www.chetnichols.net for more information. And stop by...http://www.broadjam.com/chetnichols...to listen to Chet's music. Here you can purchase the songs for $0.99 per song. You can also buy Chet's music at iTunes, Napster, eMusic and many other on-line stores !!
Enjoy.
TO LISTEN TO CHET'S MUSIC ONLINE NOW-CLICK HERE !!!
Chet Nichols
Stage Performance Resume
For More Information
Please email Chet at
LastRidersOnRt66@aol.com